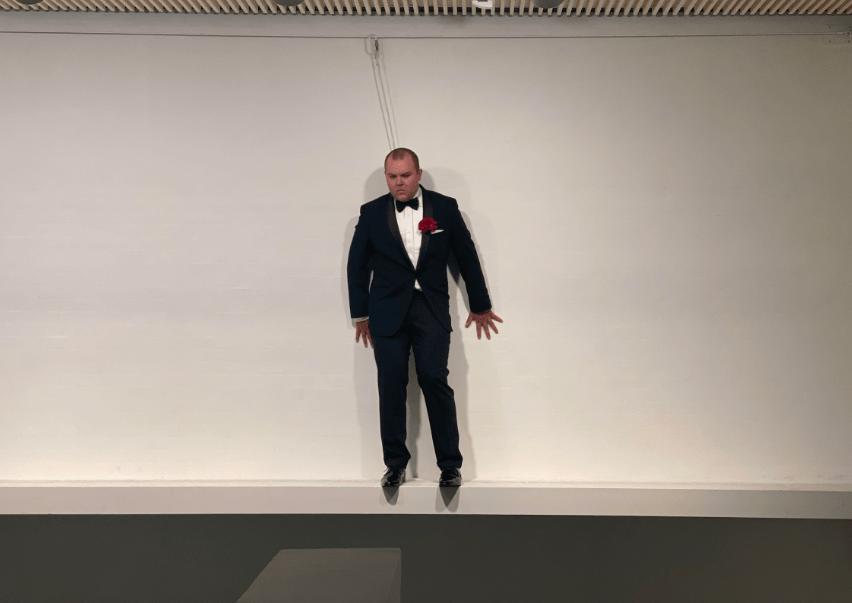 COPENHAGEN — Take the long train north of Copenhagen to the small town Humlebæk and walk a few minutes to the Øresund Sound, and you'll find yourself at the Louisiana Museum of Modern Art, one of the most important and popular museums in Scandinavia. Just outside is what looks like a marble column, with a flame atop. Look more carefully, and you'll find that the flame is static. Knock on the column, and you'll realize it's made of wood. This monumental piece outside this monumental museum is an illusion. You might call it an "Epic Waste of Love and Understanding," as chiseled on the column.
The installation references an argument between the artist, Ragnar Kjartansson, and his wife. It is also the name of Epic Waste of Love and Understanding, the first Scandinavian retrospective of the popular Icelandic artist, which opened this month at the museum. The show plays with power, humor, repetition, and self-effacement, sometimes looking outward at world leaders and other times looking at the absurdities of the life of a superstar artist.
At the exhibition's entrance is an array of hundreds of white and blue porcelain salt and pepper shakers. "Guilt and fear are kind of the essence of everything," Kjartansson noted at the press preview, alongside curator Tine Colstrup, while pointing to the Western appropriation of Chinese porcelain styles. And yet, to me, emotions make life interesting, when sprinkled carefully.
These emotions, along with others, show through in "Terrible, Terrible," a reenactment of two attempts to deface Ukrainian painter Ilya Repin's "Ivan the Terrible and His Son Ivan on 16 November 1581." Considered by some to misrepresent the Tsar and his history in the way he is depicted killing his son, Ivan Ivanovich, the painting was attacked in 1913 and once again in 2018. The videos present the two moments side by side, moving from a silent meditation on the painting to a sudden burst of violence, resistance, and a reminder that art can have tremendous political power.
Read full article at hyperallergic.com