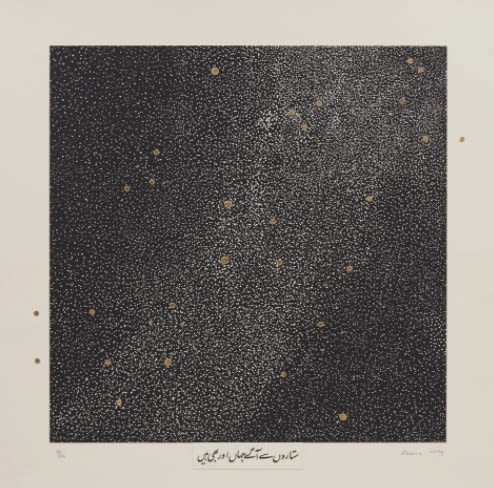 MoMA's staff recalls the widely admired artist.
Sean Anderson, Christophe Cherix, Rattanamol Singh Johal, Glenn D. Lowry, Sarah Suzuki
I first learned about Zarina Hashmi as a graduate student working on early Mughal architecture in India in the 1980s. I had traveled to Aligarh, where Zarina was born in 1937 and home to one of India's great universities, where her father taught, to meet with a number of scholars. One of them, who was an old family friend of the Hashmis, asked me if I knew of Zarina. I did not. Fast forward almost 30 years to a chance encounter with her in New York City, and the rekindling of an old memory. I think she was surprised, maybe even a little amused, that I had not only been to Aligarh but that she was still talked about there, as her family had fled to Pakistan after Partition. Over many studio visits and shared moments, I came to admire her quiet intelligence and elegant manner, and to cherish her stories about the worlds she knew and the worlds she imagined. We talked about Aligarh and Delhi, London and New York, nomadic existences, and the need for someplace to call home.
Zarina did not have to say much, or speak forcefully. Her art did that and more for her, with its complex associations between traditional Indian art and craft, and the languages of modernism filtered through her deeply cultured mind. Blinding Light, for instance, with its squares of gold leaf over paper, is both a meditation on craft and a sublimely abstract work that conjures associations with Agnes Martin as much as it does with Indian temple painting. And Santa Cruz—four etchings and a line of Urdu poetry by Faiz Ahmed Faiz—uses the rigid formality of light and dark blocks to conjure up the mysterious space of creativity out of which poetry appears, while alluding to the works of artists like Brice Marden and Richard Serra.
At her best, Zarina made the invisible filaments of memory tangible and alive, evoking distant spaces and current feelings; a life left behind and a life well lived. Her work could be stunningly beautiful and haptic as easily as it could be cerebral and abstract—but it was always meaningful and carefully considered, as she was herself. Just before the novel coronavirus shut down travel, I was in India on the tail end of a trip to Asia, and the last exhibition I saw there was a beautiful survey of Zarina's work at the Kiran Nadar Museum of Art—a perfect coda to my first hearing about her, and a memory I will never forget, just as I will never forget her.
Read full article at moma.org