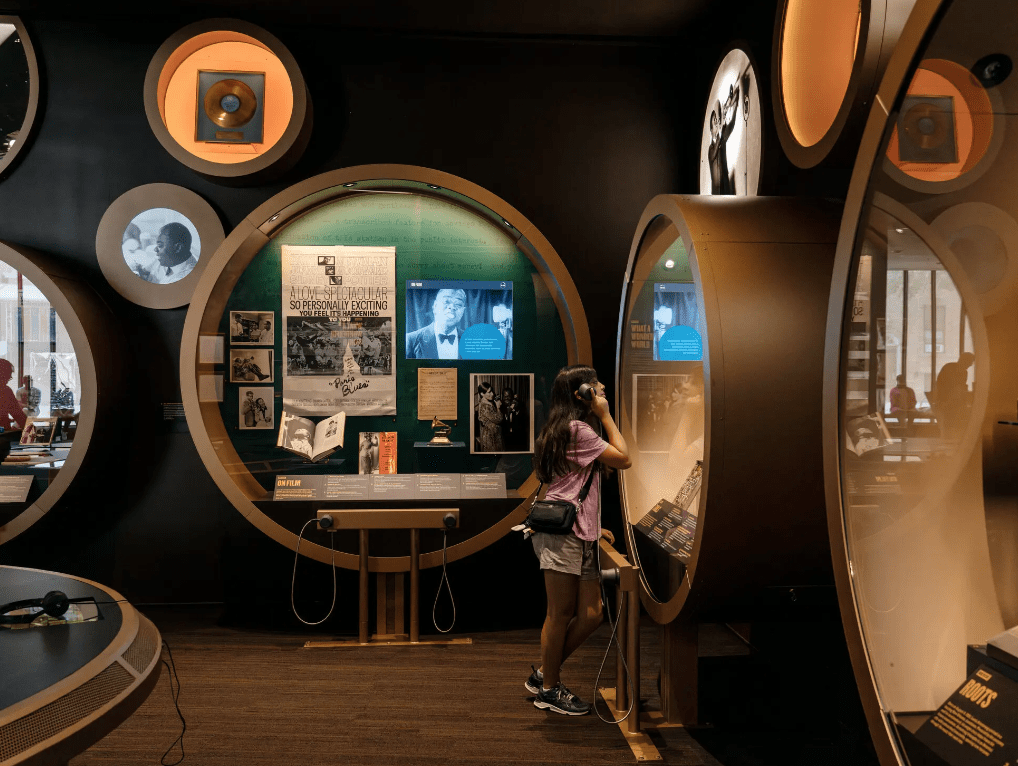 New jazz and exhibition spaces, and an inaugural show curated by Jason Moran, feature the trumpeter's history, collaged onto the walls.
You can find anything in Queens. And yet for decades, the Louis Armstrong House Museum has been a well-kept secret on a quiet street in Corona. The longtime residence of the famed jazz trumpeter, singer and bandleader, it is a midcentury interior design treasure hidden behind a modest brick exterior.
The museum's new extension, the 14,000 square foot Louis Armstrong Center, blends in a little less. It looks, in fact, a bit like a 1960s spaceship landed in the middle of a residential block. By design, it doesn't tower over its neighboring vinyl-sided houses but, with its curvilinear roof, it does seem to want to envelop them. And behind its rippling brass facade lie some ambitious goals: to connect Armstrong as a cultural figure to fans, artists, historians and his beloved Queens community; to extend his civic and creative values to generations that don't know how much his vision, and his very being, changed things. It wants, above all, to invite more people in.
"The house is relatively small," said Regina Bain, executive director of the House Museum and Center, speaking of the two-story dwelling where Armstrong lived with his wife, Lucille, from 1943 until his death in 1971. "But his legacy is humongous. And this is the building that will help us to launch that."
The Center, 25 years in development, includes exhibition, research and education areas, and, for events, a 75-seat performance space whose blond wood and intimacy recall Dizzy's Club Coca-Cola, the Jazz at Lincoln Center venue.
"I think that this will do something that we haven't quite seen in a jazz space," said Jason Moran, the jazz pianist and composer, who was the Center's inaugural exhibition curator. "That's also something that my community needs to witness, too. It needs to watch, how can we take care of an artist's history? And what else can it unleash in a community that might not even care about the art, but might care about something else related to it? Armstrong gives us all those opportunities to do that."
Read full article at nytimes.com