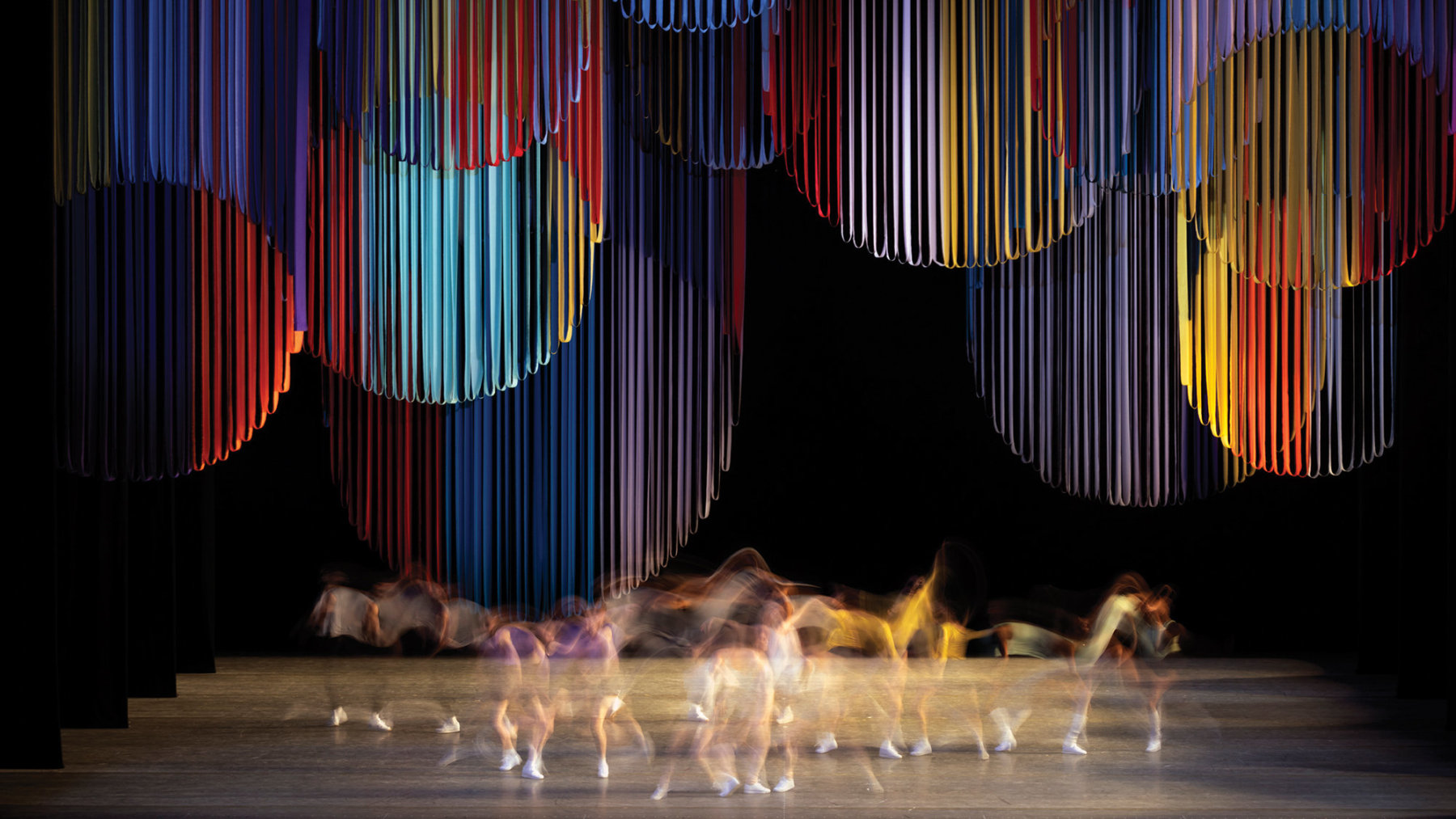 Usually, the artists commissioned to produce an original installation for New York City Ballet's Art Series have not worked within the Promenade of the Company's home theater. But sculptor Eva LeWitt had a sneak peek as to what an installation might look like when the Promenade, with its soaring, gold-leafed ceilings and dramatic beaded curtains, recently served as her workshop. For LeWitt, it was more than appropriate for the large-scale, vibrant work she has become recognized for in recent years. "Obviously it's a beautiful space," she noted in a recent conversation. "Such a perfect space to put work like that."
The "work like that" she's referring to is the set design for Partita, the latest ballet Resident Choreographer Justin Peck created on the Company, which had its premiere on January 27 and returns for encore performances this month.
LeWitt's set design was built on the theater's Promenade before it was transferred and lit onstage, uniquely coming to life in the space. As plans began to develop for the next installment of the NYCB Art Series initiative, which is re-launching this spring with lead underwriting support from Lynne and Richard Pasculano, commissioning LeWitt to create new sculptures for a Promenade installation emerged as an obvious and perfect fit. Created in 2013, NYCB's Art Series has featured acclaimed site-specific installations at the Koch Theater by artists FAILE (2013), JR (2014), Dustin Yellin (2015), Marcel Dzama (2016), Santtu Mustonen (2017), Jihan Zencirli (aka Geronimo) (2018), Shantell Martin (2019), and Lauren Redniss (2020), and has been a powerful vehicle for attracting new audiences to the Company's performances.
While working on her set design for Peck's Partita on the Promenade, LeWitt capitalized on the vast dimensions, resulting in a piece that represents "the largest I've ever worked," she says. The multicolored ribbon-like elements reflect the "exuberance" she describes in both Peck's choreography and Caroline Shaw's score, the Pulitzer Prize-winning Partita for 8 Voices. "Justin saw a piece of mine in Boston, a big installation at the ICA [Institute of Contemporary Art], and he approached me with the idea of doing a set that had a similar energy, similar colors—bright and big. So we just started from there," LeWitt says.
Read full article at playbill.com