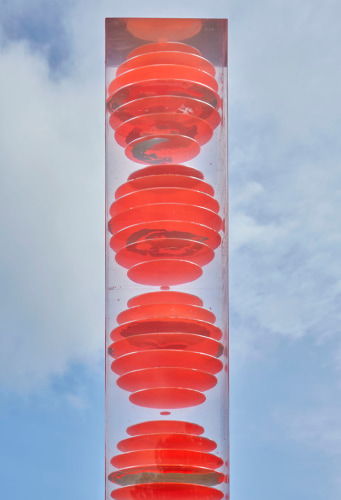 One of the best parts about summer art exhibitions is that many offer opportunities to spend time outdoors.
One of the season's most exciting shows for this kind of escape—to take in beautiful artwork in an even more beautiful setting—is the Clark Institute's "Ground/work," which welcomes visitors to the sprawling grounds of the Berkshires-based museum in Williamstown, Massachusetts.
The show, the museum notes, highlights "a reverence for nature and a desire to further enliven the surrounding trails, pastures, and woods" of the property, and brings together bold, colorful installations from six contemporary female artists: Kelly Akashi, Nairy Baghramian, Jennie C. Jones, Analia Saban, Haegue Yang, and Eva LeWitt. All of the artists planned their works in response to sites they chose by hand, each of which are scattered about the Clark's massive 140-acre campus. The works were also planned with the changing landscape—and visitors hoping to escape into the bucolic wilds of the Berkshires—in mind.
"Ground/work," according to the museum, "highlights the balance between fragility and resilience that both nature and the passage of time reveal, while offering fresh experiences with every visit." The works were conceived in part as a way to help visitors re-enter the world again, following a long year of isolation, and gently encourages them to re-engage with themes like the comforts of nature and community.
Read full article at artnet.com