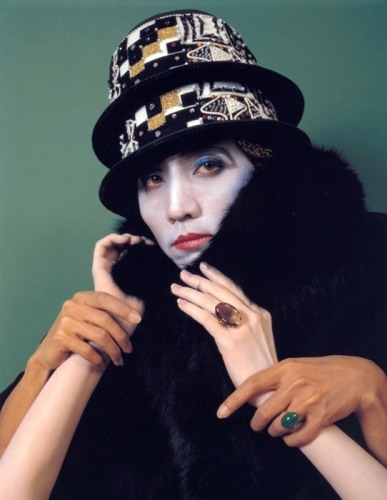 "In the end, what is history? And what is historical truth? These are questions that do not have ready answers," Japanese artist Yasumasa Morimura asks in "egó sympósion", the preface he pens in the catalogue for Ego Obscura, a 30-year retrospective of photographic work in which he transforms iconic works of art and pop culture into self-portraits.
Whether presenting himself as Marilyn Monroe in the famous Playboy centerfold, appearing as Frida Kahlo standing bare-breasted in her brace, or portraying Marcel Duchamp's alter ego Rrose Sélavy, Morimura surgically deconstructs the concept of "the self" to explore the perils of binary thinking that accompany our assumptions of race, gender, sexuality, and identity, and the ways in which we ensconce them in the pantheon of cultural memory and art history.
"Various truths are concealed in many paintings," Morimura continues. "On the other hand, a painting can be seen as a fake, something caked with falsehoods and misunderstandings. A painter's testimony is at once a confession of a hidden truth and an attempt to overwrite their life with a false statement."
In order to delve beneath the surface, Morimura goes in – quite literally, establishing a practice that requires him to become himself and his subject at the same exact time. The idea of creating a work of art that was simultaneously an art critique came about in 1985, when Morimura decided to cast himself in the most famous self-mutilation in art, a portrait of Vincent van Gogh after he severed his ear.
"At the time, I was in my mid-30s and contemplating how I wanted to live the rest of my life. I was at a standstill," Morimura recounts in an interview with The Japan Society in New York, where the exhibition is being held. "My suffering at the moment was overlapped with Gogh's anguish, and that's why I chose Gogh's most tragic expression, cutting his ear."
View full article at dazeddigital.com