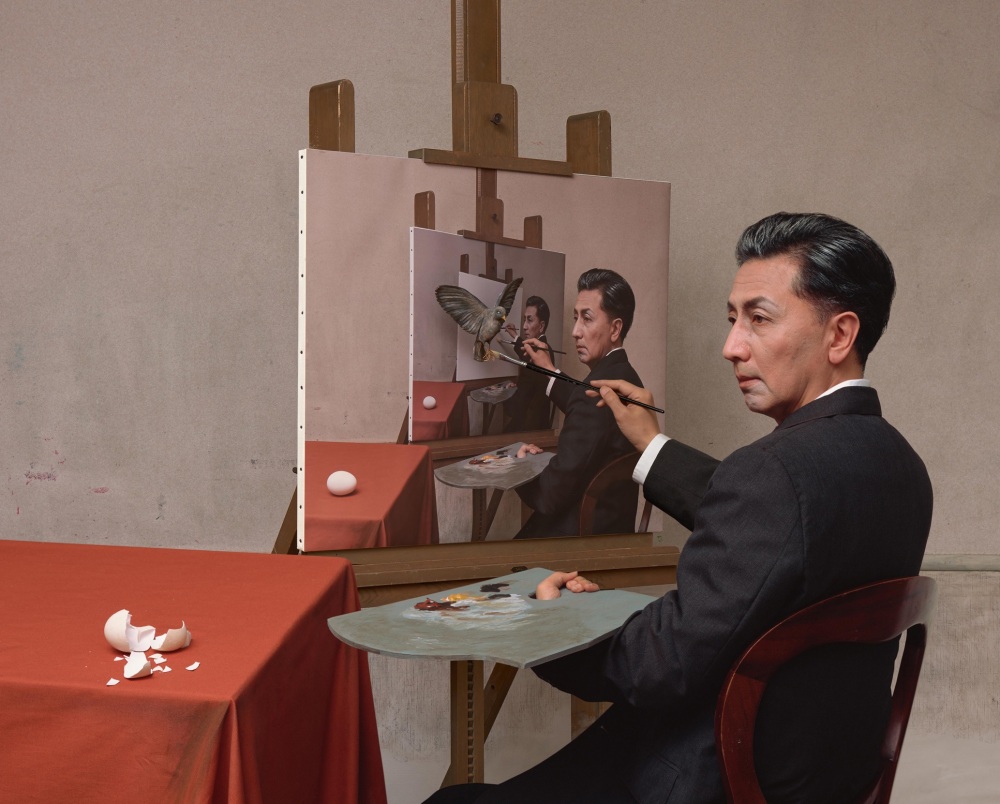 As photographer Yasumasa Morimura has predominantly made his name since 1985 in eccentric self-portraiture involving impersonations of famous people, his current exhibition is conceptuallyand structurally all autobiography. It is a tale serially told through chapters with a beginning, middle-stage developments and a seemingly violent climax - all the bit players he dresses as meet their ends while the main protagonist lives on. Rather than simply fact or fiction, the exhibition is Morimura's imaginative interweaving of the two as his art story of birth, death and what might live on in the aftermath.
Beginning with a natal chapter zero, black-and-white snaps show the artist from boyhood through to the emergence of his initial impersonations ofluminaryWestern painters. The first of these were shown in a photography group exhibition, "Smile with Radical Will;' with Tomoaki Ishihara and Hiroshi Kimura at Kyoto's Gallerie 16 in 1985. Photographing himself in the guise of Vincent van Gogh after the artist had cut off his ear, and as one of van Gogh's portrait sitters, Camille Roulin, these works catapulted Morimura to fame and inaugurated his performative explorations of himself as others.
Chapter one comprises mostly new works, with Morimura dressed as the Western old masters, beginning with Leonardo da Vinci. Born in the early postwar years, Morimura's fundamental art education began with what he calls the first "Art" which, in addition to Van Gogh's work, included Leonardo's "Mona Lisa:' Other portraits include Morimura as Jan van Eyck, Gustave Courbet and the surrealist Rene Magritte.
Read full article at japantimes.co.jp