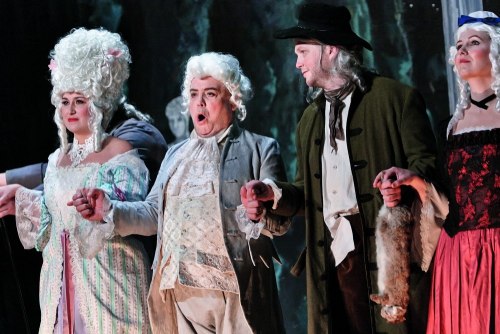 The REDCAT stage looked like an art installation of the original set for Mozart's "The Marriage of Figaro." Singers, who performed an excerpt from the 1784 opera, wore period costumes and powdered wigs. A small orchestra in modern semiformal dress sat in a makeshift pit.
The opportunity to hear a three-minute excerpt from the finale, the part in which the philandering Count Almaviva asks for, and is given, forgiveness from the Countess, had sold out, and many had bought standby tickets hoping to get in at some point. That was because this three minutes of music, give or take a few seconds, lasted from noon to midnight. Nothing was slowed down, as is the case with Norwegian composer Leif Inge's "9 Beet Stretch," a sound installation in which a recording of Beethoven's Ninth is electronically elongated to last 24 hours, time itself slowing down.
Ragnar Kjartansson's "Bliss" over the weekend was another sort of Nordic time-twister. The Icelandic artist requires the performers to loop through that same "Figaro" passage nonstop for a full 12 hours as if on autoplay.
The Los Angeles Philharmonic, which presented "Bliss" as the most extravagant part of its season-long Fluxus festival, partnering with the Getty and, here, REDCAT, might require a little forgiveness itself. Christopher Rountree, whose idea this performance was, conducted indefatigably. The orchestra was his band, wild Up. Ten singers, several from the talented local pool of new music specialists, were amazing.
Read full article at latimes.com