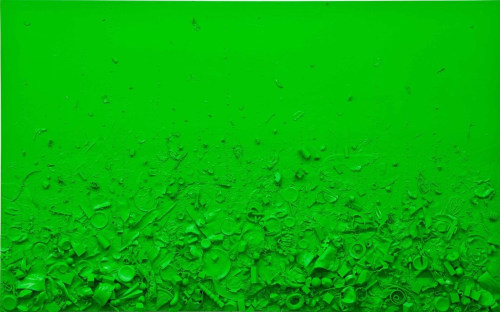 The artist Tom Friedman tends to blow our minds and then move on, rarely repeating himself. (A starburst made of toothpicks or a realistic fly, having seemingly alighted on the corner of a pedestal, come to mind.) Nearly each artwork is some one-off feat of concept, technique and common materials. So it's unexpected to see Mr. Friedman staying in one place as he does here and to realize that the effect is even more intense.
This show is suffused with the tension of trying to reconcile what you see with the exhibition's title: "Paint and Styrofoam." Whether painting or sculpture, every work in this show uses these two materials. Their names buzz around in your head with almost no place to land, as you try to figure out where one material stops and the other begins, or what you are looking at in the first place. This is especially true of the monochrome, seemingly abstract paintings that line the walls. (Fittingly, one work consists of a tiny eyeball wedged into a corner, easy to overlook.)
Minus the show's title, other sculptures are determinedly, but also conventionally, trompe l'oeil, especially the wood stool, guitar and disconnected microphone of "Moot" and the purple (Jeff Koons-like) balloon of "Purple Balloon." But "Pepto Bismol Pink" — an attenuated ganglion of vaguely intestinal shape — deviates. A divot in its white pedestal reveals Styrofoamish blue, probably before you even focus on it.
Read full article at nytimes.com