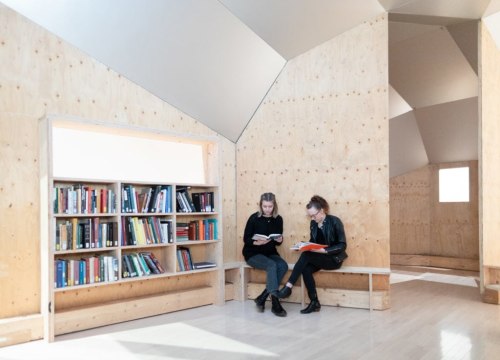 "East Lansing, huh? I have an uncle out there," the taxi driver tells me en route to Union Station. I am making the trip to the small town nestled halfway between Grand Rapids, MI and Detroit. "Not much to do."
This seems indicative of all Chicagoans who I told of my travels; a general nod to a distant relative who attended Michigan State University in the last thirty years, or a place once stopped at for lunch when the end goal was another place. The town is unassuming and quaint, similar to nearly every college town I have visited, with a beautiful campus and a massive student body of 50,000. But the reason I travelled from Chicago to a much more comforting snow-stricken East Lansing was for their contemporary art museum, the MSU Broad, which has surprisingly placed itself as a world-class institution.
Their lead exhibition currently on view, entitled Oscar Tuazon: Water School, enacts a community-based educational model within the museum, which surrounds the LA-based artist's practice. A large, light-wood honeycomb structure entitled Zome Alloy (2016)—shaped after American inventor and pioneer of passive solar technology Steve Baer's early waste-free Domehomes— overtakes the gallery, placing importance on the ability of architecture to create and foster space, and houses the 'school' within which public programming occurs. The adjacent galleries of the museum display additional sculptural works by Tuazon, most with some utilitarian use, that the artist pulls influence from 1960s–70s countercultural icons, namely Baer, Buckminster Fuller, and Robert Frank, among others. Copies of the Whole Earth Catalogue line display cases next to an early copy of Baer's Dome Cookbook (1969)—if anything, these intangible objects draw a conceptual link to the long history of radical and countercultural publishing. Through these influences, Tuazon draws together his own sculptural and artistic practice, while simultaneously revealing a long lineage of environmentalists-turned-inventors, and vice-versa. The Alloy first found its home at the Art Basel Messeplatz, as part of the fair's outside installation program, yet was unoccupied, whereas in its current existence at the MSU Broad, the piece is positioned as a library with seating—allowing instead for a further investigation into the histories of land rights and water. In this state, the work is more readily able to explore the cultural ways in which water bridges communities, but more importantly the often (quite deliberately) unseen political history that water and its infrastructure has.
Read full article at theseenjournal.org