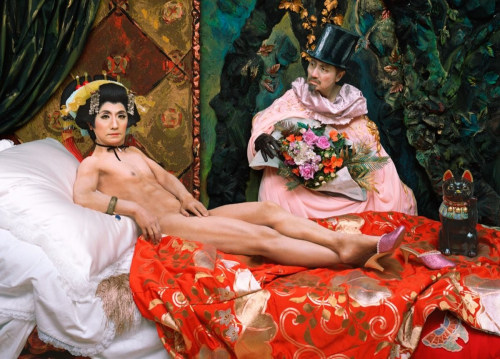 Yasumasa Morimura is a fan of role-play—in fact, one could say it's his primary medium. Since the mid-1980s, the Japanese conceptual photographer has transformed his own body to resemble creative geniuses, megastars, and revolutionaries as wide-ranging as Vincent van Gogh, Marilyn Monroe, and Che Guevara. He's also impersonated the subjects of art history's famous paintings: He plays the reclining prostitute in Édouard Manet's Olympia (1863), as well as the smiling female victor and the gruesomely severed head in Lucas Cranach the Elder's Judith with the Head of Holofernes (ca. 1530).
While Morimura has described his practice as "wearable painting" or "wearing Western art history," it's not a superficial act: He fuses the identity and concerns of his subjects with his own. "To put it simply, I feel Dürer in myself and myself in Dürer," he explained, in a recent interview with the Japan Society, of his 2016 recreation of a self-portrait by
Albrecht Dürer, painted in 1500.
In the process, Morimura not only probes his own identity as an artist and Japanese man, but also broader themes of cultural, political, and national selfhood: in particular, the increasingly blurred lines between East and West. The scope of his 30-year investigation is currently on full, mesmerizing view at the Japan Society in "Ego Obscura," the 67-year-old, Osaka-based artist's first solo show at a New York institution.
Read full article at artsy.net