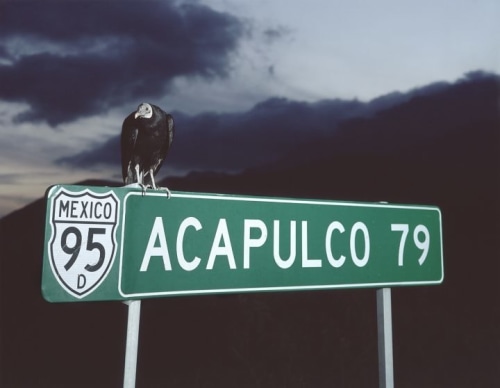 After premiering in Mexico City last January, the film Free Fall by visual artist Miguel Calderón in on view at the Fototeca Latinoamericana, Buenos Aires, and Luhring Augustine, New York. Accompanied by a series of objects and photographs related to the video, the installation continues the artist's research on themes of power, violence, and the animal instinct of human nature.
Àngels Miralda: In Free Fall the protagonist, Camaleón (chameleon), explains how, from an early age, his life has been full of violent experiences. How do you place him in the context of a larger society in this intimate filmic portrait that mixes his work life with his passion for falconry?
Miguel Calderón: I made this document of my friend Camaleón because he told me he was suffering from convulsions; he would fall, lose consciousness, and become violent. I caught myself thinking about how he used the falcon to escape from reality (as I did during my teenage years) and I made the association to the free-fall of the predatory bird to kill its prey with the falls that Camaleón suffers after his attacks. This thought led to the documentation of Camaleón in his environment and his symbiotic dependence on the bird. When he explained the violent acts that surrounded his life over the course of many years, I was able to expand on the themes of violence, survival, and human existence compared to animal instinct.
Read full article at rotundamagazine.com