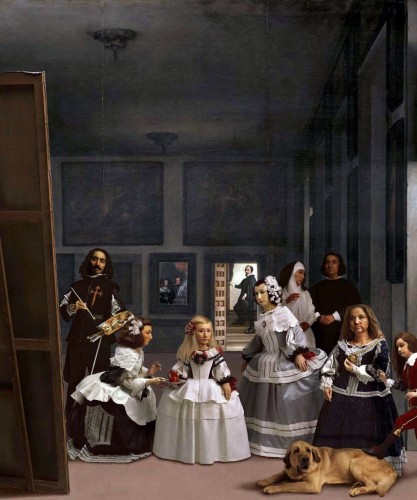 The sly re-enactor of art history Yasumasa Morimura is back with yet another of his witty, gender-bending attacks on Western masterpieces, and this time he's set his sights inadvisably high. His target is Velázquez's "Las Meninas," one of the most famous paintings and a work already rich in intrigue and charisma. Fortunately, Mr. Morimura rises to the occasion with photographs that tease out the painting's spatial layers and strange mirror effects (while playing his usual games with identity).
Using both staging and digital manipulation, Mr. Morimura inserts himself into the painting and conspicuously impersonates all its subjects: the infant; her entourage of servants and dwarfs; her parents, Philip IV and Mariana, the king and queen of Spain; and the court artist, Velázquez. He also shows photographs of "Las Meninas" in situ at the Prado in Madrid, building an elaborate tableau vivant that appears to occupy the gallery space in front of the painting and to reflect the scene in the canvas.
At the same time, he refuses to resolve questions that have long haunted viewers of "Las Meninas": Are the king and queen, seen only in a mirror on the studio wall, really in the room? What's in the mysterious painting on Velázquez's easel? And where is the viewer in all of this? Mr. Morimura, the mad actor/director, shuffling figures around and jumping in and out of character, makes us stop looking for answers and just start looking, period.
Read full article at nytimes.com