Janet Cardiff and George Bures Miller
The City of Forking Paths, 2014
Video/audio walk
Duration: 66 minutes
Commissioned by the 19th Biennale of Sydney (2014) as a City of Sydney legacy artwork as part of the City Art Collection.
Janet Cardiff & George Bures Miller
Ghost Machine, 2005
Video walk
Duration: 27 minutes
English and German versions.
Curated by Matthias Lilienthal. Hebbel Theater, Berlin, Germany
Janet Cardiff & George Bures Miller
Jena Walk (Memory Field), 2006
Audio walk
Commissioned by the Culture Department of the City of Jena, Germany.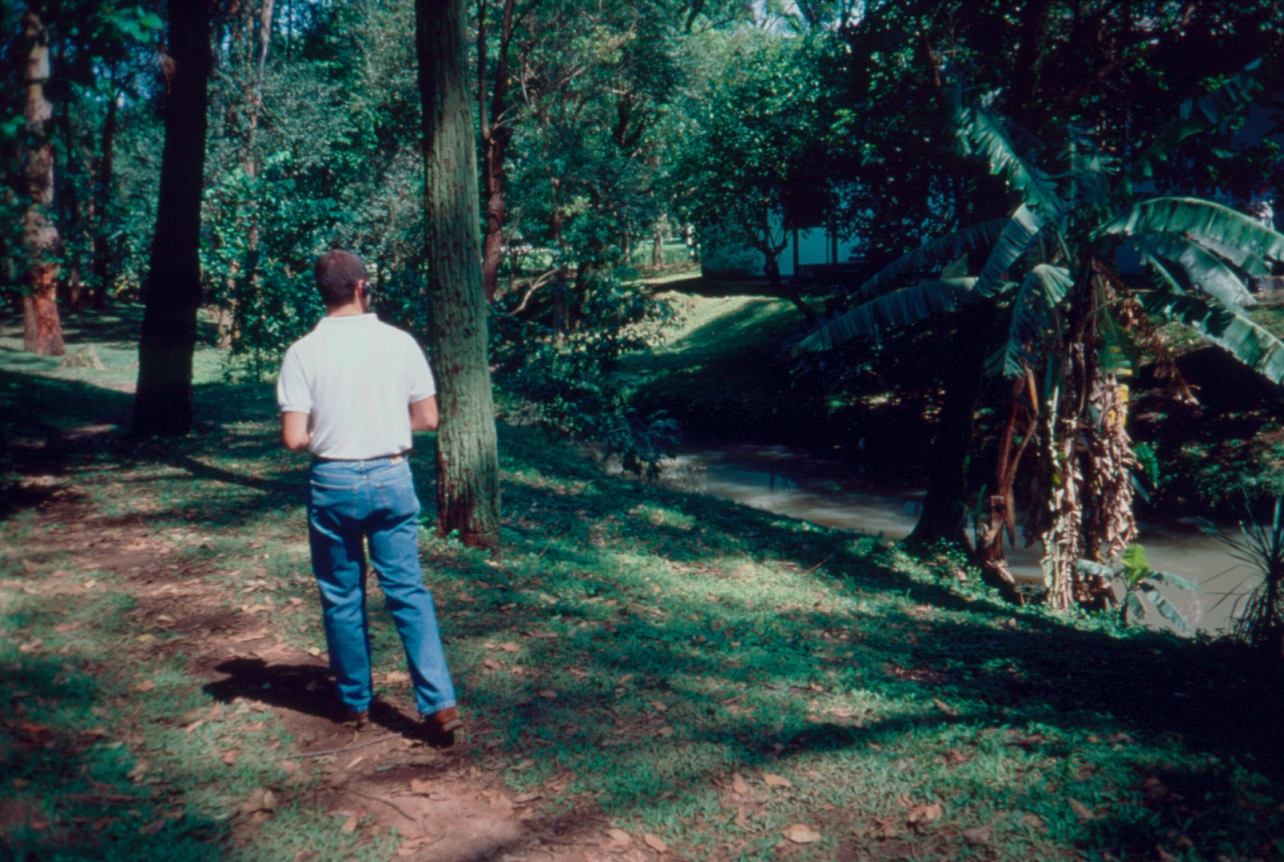 Janet Cardiff
Drogan's Nighmare, 1998
Audio walk
Duration: 12 minutes
Curated by Ivo Mesquita for XXIV Bienal de São Paulo.
São Paulo, Brazil

Janet Cardiff
Taking Pictures, 2000
Audio walk with photographs
Duration: 16 minutes
Curated by Rochelle Steiner for the group exhibition Wonderland (June 30 – September 24)
Saint Louis Art Museum. St. Louis, Missouri, USA

Janet Cardiff
Villa Medici Walk, 1998
Audio walk
Duration: 16 minutes, 22 seconds
Curated by Carolyn Christov-Bakargiev, Hans Ulrich Obrist, and Laurence Bossé for the group exhibition La Ville, le Jardin, la Mémoire. Académie de France.
Villa Medici, Rome, Italy

Janet Cardiff
Wanås Walk, 1998
Audio walk
Duration: 14 minutes
Curated by Marika and Charles Wachtmeister for The Wanås Foundation.
Knislinge, Sweden

Janet Cardiff
Münster Walk, 1997
Audio walk with mixed media props, 17 minutes
Curated by Kasper König (with assistant curator Ulrike Groos) for Skulptur
Janet Cardiff
The Missing Voice: Case Study B, 1999
Audio walk, 50 minutes
Commissioned and produced by Artangel. Whitechapel Library to Liverpool Street Station. London, UK
Janet Cardiff
Her Long Black Hair, 2004
Audio Walk with photographs, 46 minutes
Curated by Tom Eccles for the Public Art Fund (June 17 – September 13). Central Park, New York.
Janet Cardiff & George Bures Miller
Alter Bahnhof Video Walk, 2012
Video walk, 26 min walk
Produced for dOCUMENTA (13), Kassel, Germany.
Janet Cardiff
Bathroom Stories, 1991
Audio walk
Duration: 5 minutes
Curated by Donald Goodes for the group exhibition Art All Over My House, part of the Desert Art Event.
Lethbridge, Alberta, Canada

Janet Cardiff
Louisiana Walk, 1996
Audio walk
Duration: 11 minutes
Curated by Bruce Ferguson for the group exhibition Walking and Thinking and Walking, part of NowHere
Louisiana Museum, Humlebæk, Denmark

Janet Cardiff
In Real Time, 1991
Video walk,
Duration: 18 minutes
Curated by Madeleine Grynsztejn for the 53rd Carnegie International at Carnegie Library.
Carnegie Museum of Art, Pittsburgh, USA

Janet Cardiff
Forest Walk, 1991
Audio walk
Duration: 12 minutes
Banff Centre for the Arts, Canadian Artist in Residence Program